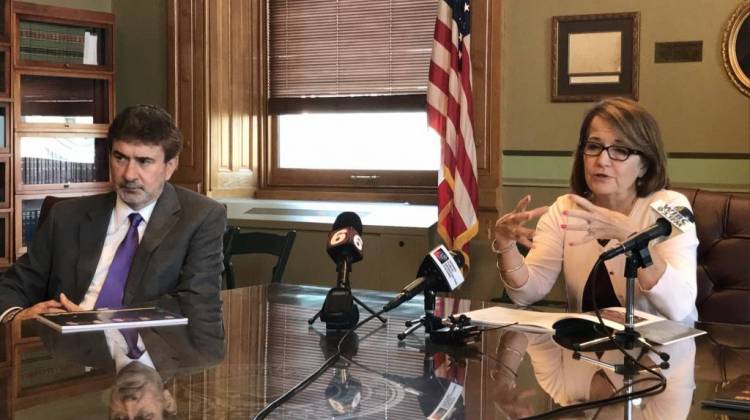 Conservatives across America who now are being forced to pay dues to their employer's unions to fund the left-leaning activities of their organized labor leaders - even speech with which they decidedly disagree - are getting another chance to escape that burden.
Justices granted plaintiffs' request for a hearing in Janus v. AFSCME, Council 31-a challenge of an IL law requiring public sector employees to pay agency fees that fund collective bargaining.
The U.S. Supreme Court on Thursday gave itself another chance to decide an issue that could choke off a vital source of money for unions around the country representing police, teachers and other government employees.
In the last five years, the Supreme Court under Chief Justice John Roberts has criticized Abood's reasoning in at least two cases, though it has left the precedent standing. The court has a 5-4 conservative majority.
But National Right to Work Legal Defense Foundation president Mark Mix said the court was poised to protect employees' rights. The defendant in the case is the American Federation of State, Council and Municipal Employees Council 31.
The high court heard a similar case last term challenging compulsory union fees in the public sector, but the justices deadlocked, 4-4, after the death of Justice Antonin Scalia.
"The stakes are high".
The 9th U.S. Court of Appeals disagreed. Twenty-eight states have so-called right-to-work laws under which fees are not required.
The suit seeks to overrule Abood v. Detroit Board of Education, the 1977 Supreme Court cast that authorized public employee unions to charge service fees to employees in the bargaining unit who refuse to join.
According to Fox, "The case has the potential to strike a financial blow against Democratic-leaning unions that represent government workers". Janus v. AFSCME is the latest in a series of efforts by conservative anti-union groups to overturn a 1977 Supreme Court decision extending to unions for state and local government workers the right to collect "fair share" fees from nonmembers who benefit from the union's collective-bargaining activities, so long as fees for political activities remain voluntary.
Early in 2016, WND reported the decision could affect laws in 23 states. But if these dues constitute compelled political speech, how can the state require anti-union workers to pay them?
The conservative-majority Supreme Court has signaled dissatisfaction with the Abood ruling in two prior cases in recent years.
An AFSCME statement calls the case a plan to "rig the economic rules against everyday working people".
Pell said a union "cannot claim to represent the interest of all workers if there is ongoing doubt about the constitutionality of its forcible collection of millions of dollars in dues". "The plaintiff teachers object to the union's positions on these political issues and say being forced to fund them as a condition of employment in a public school is unconstitutional".