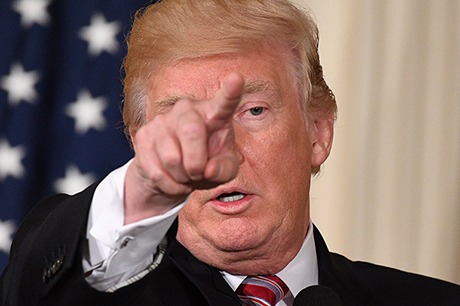 The commemoration ceremony began at the White House lawn, where Trump and first lady Melania Trump bowed their heads as bells rang in memory of those who lost their lives in the attack.
Speaking in Virginia, the President issued a warning to extremists, saying "America can not be intimidated" and those who try will join the list of enemies "who dared to test our mettle".
Trump said: "When Americans are in need, Americans pull together - and we are one country". It is Trump's first September 11 commemoration as president.
The remembrance is scheduled for about the time the first plane struck one of the Twin Towers on the morning of September 11, 2001.
The President highlighted the service of Pentagon police officer Isaac Hoopii, who responded 16 years ago to the attack on that building and was in attendance on Monday.
He said "the terrorists believed that these attacks would shake our commitment to those values", but added "they were wrong-instead of retreat, the tragedy produced in us an unyielding resolve".
Vice President Mike Pence attended a ceremony in Shanksville, Pennsylvania, where Flight 93 crashed.
"Each family here today represents a son or daughter, a sister or brother, a mother or father who was taken from you on that awful, bad day", he said.
"Right now, we're anxious about lives, not cost", he said.
The president added: "In that hour of darkness, we also came together with renewed goal".
Although the U.S.is still struggling with the bitter partisan divides the 2016 presidential election etched into the nation, both Trump and Pence urged their fellow Americans to honor the memory of those who died on 9/11 by striving for national unity.
Today (Monday), the USA commemorates 16 years since the September 11 terror attacks, in which 2,996 people were murdered by al-Qaeda in 4 coordinated attacks.
Although, as The Independent rightly recalls, that day, the then NY tycoon was only concerned to see that his building at 40 Wall Street was now the tallest in downtown Manhattan. He frequently uses the attack to praise the city's response after the attack, but has made unsubstantiated claims about what he did and saw on that day.
His tone unbending and solemn, Trump championed America's resilience and "common bonds", but issued a stern warning to "enemies" that "America can not be intimidated".
Trump also offered words of comfort to the many whose loved ones perished in the attacks.