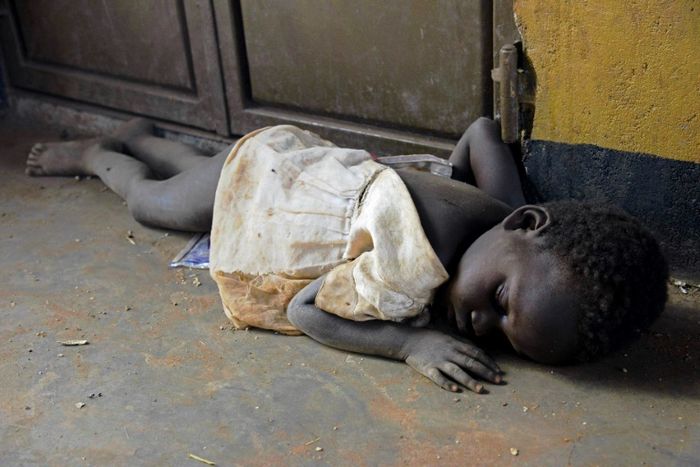 Together the three countries made up 55 per cent of the world's 65.6 million displaced people - a category that includes those forced out of their homes who remain within their own country - in 2016, when there were 20 new displacements every minute, said the United Nations report.
According to UNHCR's annual Global Trends report, that includes 22.5 million refugees, 40.3 million internally displaced, 2.8 million asylum seekers and at least 3.2 million people recorded as stateless (although UNHCR says the total stateless population is likely to closer to 10 million). Most of those people-40.3 million-were displaced but still living within their own countries, per a new report by the United Nations refugee agency.
About 22.5 million people are seeking safety across global borders as refugees, which is the highest number recorded since the UNHCR's founding in 1950 following World War II.
On average, 20 people were driven from their homes every minute past year, or one every three seconds-less than the time it takes to read this sentence.
"With 650 out of every 1,000 people [uprooted], Syria is the only country in which the experience of forced displacement now affects the majority of the population", said the report.
The U.N. High Commissioner for Refugees Filippo Grandi said more than half of refugees globally come from three countries: Syria, Afghanistan and South Sudan, which have been war-torn for years.
"Hardship, separation, death", Mr. Guterres said, recalling nightmare stories heard from refugees and displaced persons, whose number rose 300,000 since the end of 2015. The conflict in Syria was the world's biggest producer of refugees (5.5 million).
Monday's report also pointed out that, despite the huge focus on Europe's migrant crisis, it is poorer countries that host most of the world's refugees.
It also illustrates the need for countries and communities supporting refugees and other displaced people to be robustly resourced and supported, the absence of which can create instability, have consequences for lifesaving humanitarian work, or lead to secondary displacement.
Australia is also providing almost $1 million in food and supplies to help more than 320,000 people displaced by conflict in Marawi City in the southern Philippines. "These incidents are a reminder of the grave dangers that people confront when forced to flee their countries because of war and persecution". "By any measure, this is an unacceptable number", said UN High Commissioner Filippo Grandi, as he called for "solidarity and a common goal in preventing and resolving the crisis".
In that past 12 months, Uganda has taken in more refugees than any other country in the world.
Indeed, Uganda is now Africa's leading refugee-hosting country, having jumped from the eighth largest refugee-hosting country in the world in mid-2016 to the third largest today, after Turkey and Pakistan.
The U.N. attributes a lot of that uptick to the Syrian war.
The UN refugee chief meanwhile voiced most alarm over the rapidly deteriorating situation in South Sudan, which he said was now the world's "fastest growing refugee crisis and displacement crisis". Some 37 countries together accepted 189,300 refugees for resettlement.
"We have to do better for these people", Grandi said.
Turkey, which has taken in the largest number of Syrians, to a total of 2.9 million at the end of 2015.
UNICEF in Uganda requires almost $50 million in 2017 as well as $30 million each year from 2018 to 2020 to provide critical services, including education and child protection, to both refugees and host communities, the UNICEF statement said. About 3.3 million people were displaced, with 737,400 being externally displaced.
Since violence erupted in South Sudan in December 2013, more than 1.8 million people, including more than one million children have arrived in neighbouring countries.