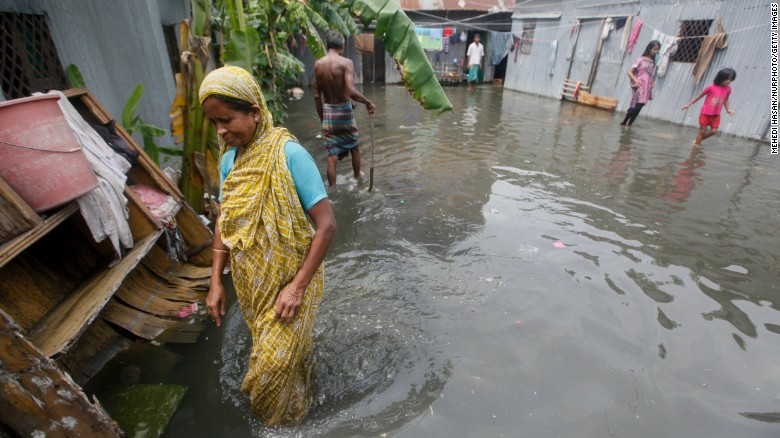 Authorities said hundreds of hillside homes were buried by landslides triggered by heavy monsoon rains in the southeast of the country on Monday. Military spokesman Rezaul Karim said several soldiers had been killed while clearing debris and mud from a highway.
The death toll could rise further as rescuers search for bodies and many people are still missing, he said.
Army troopers were among the dead in Rangamati, where many homes were buried in mud, said Golam Mostafa, a rescuer in the fire department.
In Bandarban, six people were killed and another five injured, police officer Rafiq Ullah was quoted as saying by the daily.
The EU ambassador to Bangladesh, Pierre Mayaudon, said the EU stood ready to provide support and relief efforts to alleviate the impact of this severe disaster.
Officials at the disaster management ministry said on Wednesday they allocated emergency food aid of 375 metric tons and taka 5,000,000 for the people in distress in Rangamati, Chittagong and Bandarban districts.
He said flood caused by the incessant rain inundated many areas of the Rangamati since Monday.
The police, Army and firefighters were engaged in rescue operations.
Nineteen people have reportedly died in the southern district of Chittagong, another landslide danger zone where telephone and transport links have been cut.
Rangamati district administrator Manzurul Mannan told the news agency that "the death toll might rise".
Almost three days of torrential rains due to a depression in the Bay of Bengal had triggered a series of landslides in these districts.
"We need to accomplish a crucial task of resuming Chittagong's road communications with Bandarban and Rangamati and Bandarban alongside salvaging the landslide victims", a Disaster Management official told reporters.
Outside help might not be needed, however, two Bangladesh government officials said.
Located on the floodplains of the world's largest river-delta system, which empties into the Bay of Bengal, Bangladesh faces constant threats and destruction from natural disasters such as cyclones and flooding, ucanews.com reported.
Many people remained in their shanty-like homes at the foot of the hills risking their lives, despite warnings by the local administrations.
At least 37 people died in Chittagong, scene of a major landslide in 2007 that killed 127 people.